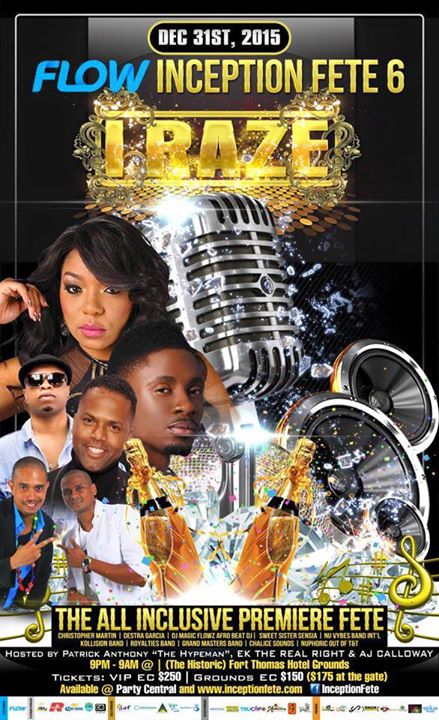 Inception Fete, the biggest fete of the St. Kitts- Nevis National Carnival has finally announced the names of the artists that will be performing at this year's event!
At the official launch, which was held at the Ultra Sky Lounge at the St. Kitts Marriott Resort on Friday, a small crowd of sponsors, partners, event organisers as well as a few members of the general public, gathered to hear exciting news about the 6th installment of the Inception fete.
The launch, which was hosted by Markysa and G-cue featured the presentation of the event's signature drink, giveaways from sponsors Flow and Sky Safari, as well as various speeches about different elements of this spectacular event.
The highlight of the evening was the reveal of the official poster and the list of performing artistes.
This year's Inception Fete 6, which goes by the theme "IRAZE", is expected to host a crowd of its usual thousands at its home the historic Fort Thomas Grounds on December 31st from 9. These energetic patrons will be entertained by the likes of: Christopher Martin, The Queen of Bachanal- Destra Garcia, Afro Beats DJ Magic Flowz, The Tripe S Sweet Sister Sensia, The Sweetest Band in the world- Nu Vybz Int'l, Kollision Band, Royaltiez, The Grand Masters Band, Chalice Sounds and Nuphoric out of Trinidad and Tobago.
Tickets sales start now and will be going at $150 for Grounds admittance and $250 for VIP.