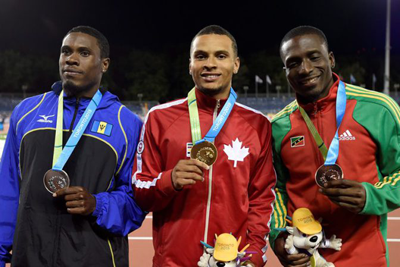 Affectionately labelled "The World's Fastest Producer" Antoine Adams made his home St. Kitts-Nevis proud yet another time by copping the bronze medal in the men's 100m finals on Wednesday 22nd July.
This would make the first medal that would be bagged by the twin-island paradise at the 2015 Pan-American Games in Toronto.
Adams clocked a staggering time of 10.09 seconds for third place while Gittens of Barbados took second with 10.06s and Canadian De Grasse took 1st place with 10.05s.
Antione Adams and team member Brijesh Lawrence will now turn their efforts into preparing for the Men's 200m and the 4X100 relay later this week.
"We Small But We Tallawah!"