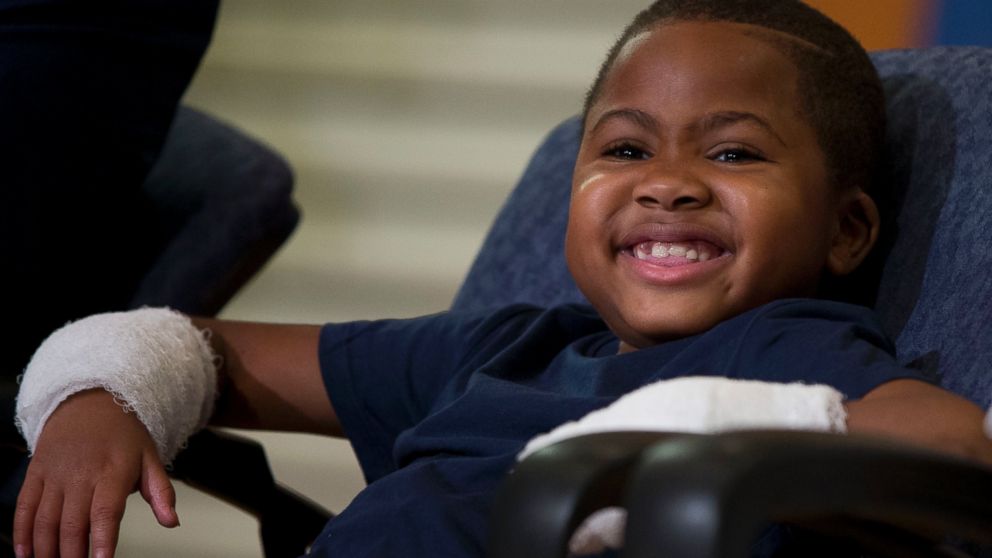 Zion Harvey is now even happier than before, and can't wait to partake in childhood joys like swinging from monkey bars or even holding his little sister.
At 8 years old, Zion is the youngest person to ever receive a double hand transplant.
The 10 hour procedure was done at the Children's Hospital in Philadelphia (CHOP) and involved attaching the bone, blood vessels, nerves, muscles, tendons and  skin of a pair of donor's hands and forearms to Zion's arms.
At the age of 2, Zion developed a life-threatening bacterial infections which resulted in the amputation of both his hands and feet and also a kidney transplant.
Despite his challenges, Zion is one pretty amazing child. He is able to feed himself, play video games, run and walk using prosthetic legs, and is quite independent.
Before the operation, the 40-person transplant team, led by Dr. L. Scott Levin an orthopedic surgeon at Penn Medicine and director of the hand-transplantation program at Children's Hospital,  had several hours of extensive practice on cadavers.
In a statement, Dr Levin stated "The success of Penn's first bilateral hand transplant on an adult, performed in 2011, gave us a foundation to adapt the intricate techniques and coordinated plans required to perform this type of complex procedure on a child." He added, "CHOP is one of the few places in the world that offer the capabilities necessary to push the limits of medicine to give a child a drastically improved quality of life."
The first double hand transplants on adults were performed in 2000 by surgeons in Austria. Since then, more than a dozen have been performed, but never on a child until now.
In a press conference after the surgery he showed his gratitude. "Thank you for helping me through this bumpy road," he said.
Even though Harvey is expected to undertake rigorous therapy several times a day, he can already move his hands a little and is expecting a speedy recovery. According to doctors, his new arms will grow with as he has years of growth and development ahead.
He is scheduled to return home to Maryland in several weeks.