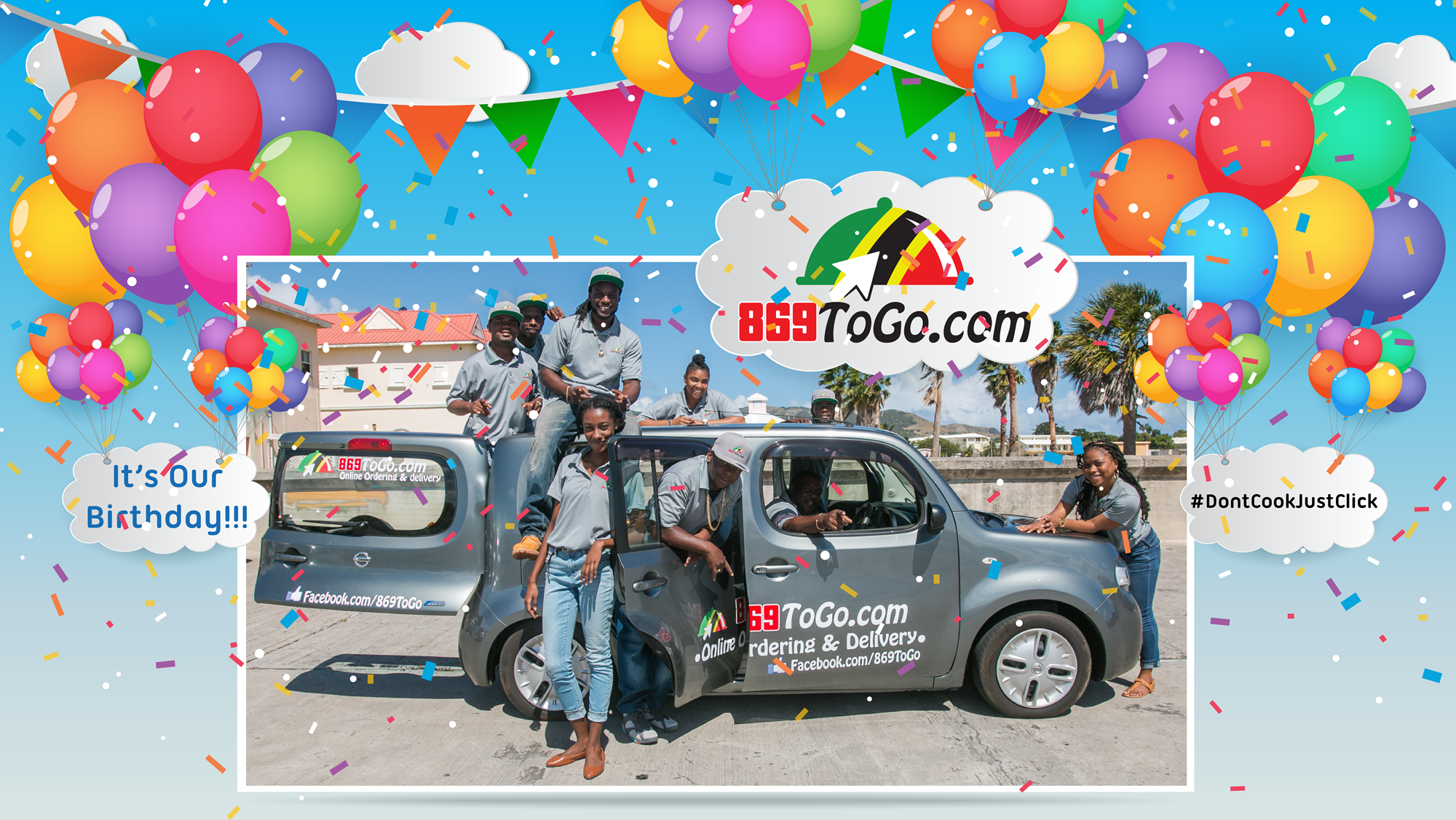 For Immediate Release:
869ToGo.com Turns 1!
The newest technology sensation, 869ToGo.com celebrates one year of service on Thursday 16th, February 2017! 869ToGo offers the convenience of simple and secure online food ordering and delivery in St. Kitts.
The service was developed by parent company Caribbean Commerce Ltd, a locally based company that specializes in e-commerce and digital technology.
With the catchy slogan, #DontCookJustClick, 869ToGo.com customers frequently order local lunchtime eats, fast food, sushi, fine dining fare, desserts and now, even flowers and other gift items for pick-up or delivery. The present delivery zone extends from Conaree to West Farm and all the areas in between, including major residential and commercial areas like Frigate Bay, St. Peters, and Basseterre, with plans for future expansion.
869ToGo.com offers safety and convenience with a cashless solution. Customers enjoy secure debit/credit card processing and an easy to use online payment system. Once a customer places an order, the customer receives a confirmation text with a link to track delivery, so they know exactly where it is and when it arrives!
Customers are also often rewarded for ordering online with 869ToGo.com. There's almost always special offers from the partnering restaurants including: 'Free Delivery' days, discounts, free desserts, drinks and other sweet freebies!
Here are the Special Offers for 869ToGo's 1st Anniversary:
?Ballahoo – Free Juice/Coffee (Breakfast) – Free Dessert (Lunch) – View Menu
?Sushi Express by Carambola – Free Dessert – View Menu
?Shawarma King- Free Ting – View Menu
?Taiwan Tasty – Free Dessert & Taiwan Beer – View Menu
?Vibes Beach Bar – 10% Discount – View Menu
?Spice of India – Free Soda – View Menu
?Chihuahua's – Free Birthday Cupcake – View Menu
?Bobsy's – Free Side (Corn/Plantain) – View Menu
?Lemongrass – Free Ice-Cream (Orders >$50) – View Menu
?Tamarind – Free Coke/Sprite – View Menu
?Scoops – 10% Discount – View Menu
?Ti Amo – Free Lemonade – View Menu
?Karma – Free Digicel Credit – View Menu
?Indulge – Buy 4 Get 2 FREE – View Menu
?Jamrock II – Free Drink – View Menu
?Chinchillas – Free Burrito – View Menu
?Creole Restaurant – 10% off – View Menu
?Dreamy Décor Bar – Free Rose w/ Flower Order, & 10% coupon with any 869ToGo order – View Menu
To order visit www.869ToGo.com. #DontCookJustClick!
About the Company
869ToGo is powered by CaribToGo.com, a brand of Caribbean Commerce Ltd. that was established to facilitate restaurants with an innovative way of servicing their customers by way of online ordering and delivery.
Caribbean Commerce Ltd. is a duly registered and incorporated company, headquartered in the Federation of St. Kitts and Nevis, that has been setup to provide innovative digital services to companies throughout the Caribbean.