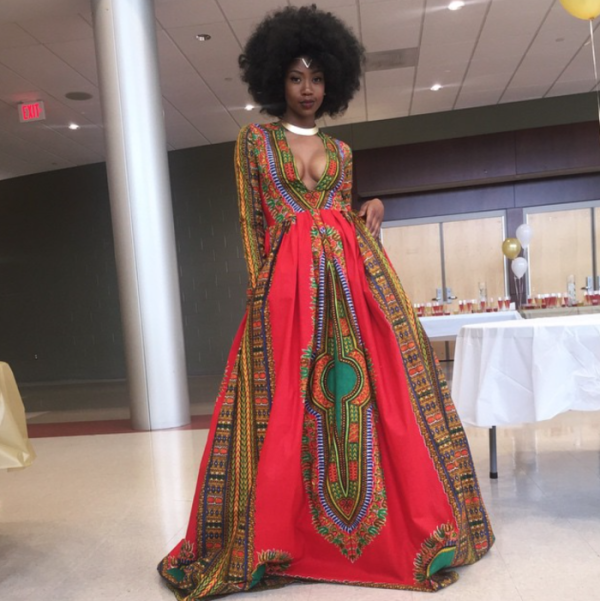 The vision of a Goddess…
18-year-old Kyemah McEntyre regally broke the internet when she debuted a stunning floor-lenght red Afrocentric gown that she wore to her High School prom on Twitter.
Kyemah, who attends the Cicely Tyson School of Performing and Fine Arts in New Jersey, calls herself a girl of "undoubtedly of African descent" and voiced on Instagram that her statement dress is a response to being labeled "ugly" or "angry".'
Her prom ensemble was everything that was African- from her voluminous Afro and her golden headpiece fit for a queen, to the thick golden necklace the hugged her neck, and of course the show-stopping plunged V-neck gown.  Posting a series of photos, she captioned the images, "When European Ideals and standards of beauty mean absolutely nothing."
Kyemah, known as Kye, isn't just a breathtaking African beauty, but she is also quite the artist! To add to her "fleekiness",  Kyemah sketched and designed the flowy, eye-catching number while Markell Evette of Markell's Closet turned her vision into a reality.
Without the need to mention, homegirl Kye took home the crown for prom queen.
McEntyre's images have been shared more than 13,000 times on Instagram and nearly 7,000 times on Twitter (and counting).