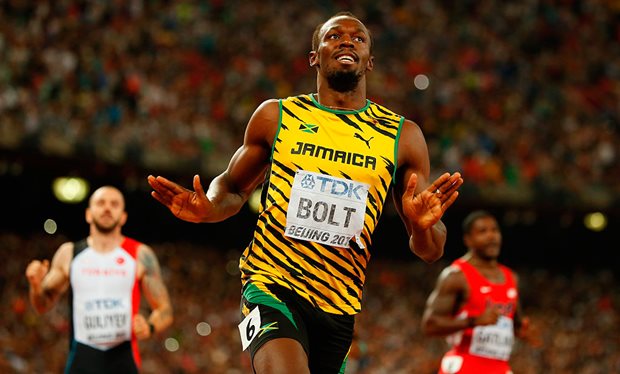 Heading into the men's 100 meter semi finals tonight, there are 6 Caribbean nationals representing 3 different countries.
Jamaica have 3 representatives in the forms of Usain Bolt, Yohan Blake and Nickel Ashmeade. Antigua and Barbuda have 2 representatives in the semis with Cejhae Greene and Daniel Bailey. Finally St Kitts & Nevis have one representative in the form of the once World Champion Kim Collins who is also the only 40 year old man to run under the 10 second barrier.
These 6 men represent a real chance for the Caribbean to dominate the 100 meter final as they have in the previous two Olympics. Familiar names from 4 years ago are there in the shape of the Jamaican trio Bolt, Blake and Ashmeade. However, the likes of Cejhae Greene and a rejuvenated Kim Collins represent an opportunity for a real shock from different nationals of the Caribbean.
This Olympics, especially after Elaine Thompson's victory last night over her training partner and compatriot Shelly-Ann Fraser-Pryce in the women's 100 meter final, has a feel of a changing of the guard. For the United States, perhaps it is time Trayvon Bromell takes over from Gatlin. For Antigua and Barbuda, perhaps Cejhae Greene will become their premier sprinter and for Jamaica, in Usain Bolt's final Olympics, it may be Yohan Blake's time to hold the spotlight.
If Greene, Bailey and or Collins can make the final, it will be an exceptional achievement for any of those three. However, the three Jamaicans mentally all have one foot in the final and will be eyeing the podium. This evening is shaping up to be one of the greatest and most important 100 meter finals in recent history. Will Usain Bolt solidify his place in history? Will Gatlin gain redemption over the Caribbean national who became everything he could have been? Will a new superstar from the United States or Caribbean reign supreme? Find out tonight, as semi finals get underway at 8pmEST and the final set to take place at 9:25EST.