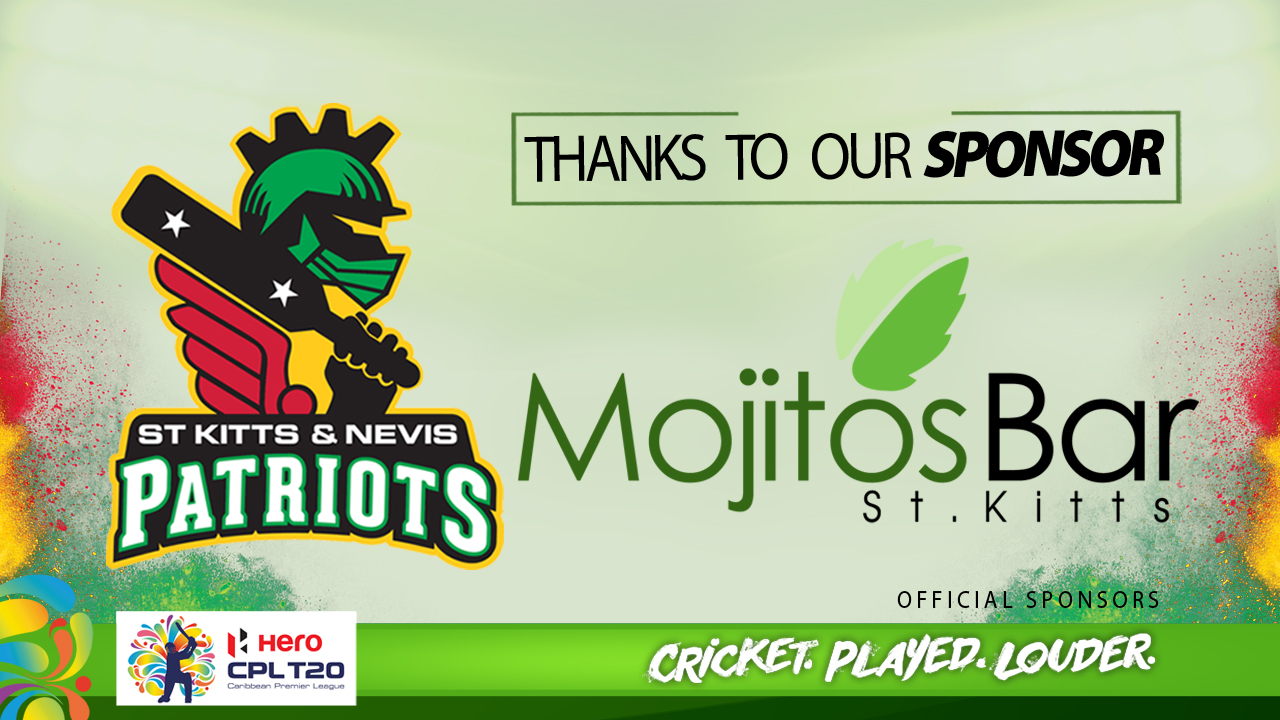 For Immediate Release
July 24th, 2017
Mojitos Bar St. Kitts and English Tea Shop – still partying with the Patriots!
Basseterre, St. Kitts – Mojitos Bar St. Kitts and English Tea Shop Partners with the St. Kitts Nevis Patriots once more for their 2017 CPL campaign.
2017 has been a year of big news for the St. Kitts-Nevis Patriots thus far. Continuing the trend, the Patriots are pleased to announce a renewed partnership between sponsors of previous years – Mojitos Bar St. Kitts and English Tea Shop. The Patriots management and team are delighted to have the support of these partners once again and are confident it would be a mutually beneficial experience. Patriots COO Richard Berridge expressed his appreciation: "Any time that a sponsor decides to remain with their Patriots family we are pleased to continue to provide them with value for their brand in a reciprocal arrangement."
Berridge believes that the team provides an excellent opportunity for any sponsor to get on board with the Patriots program. "There continues to be terrific prospects for branding by ways of the fans at CPL. We are still a progressive outfit, both regional and international in scope, and one which provides any sponsor with an excellent platform for branding their products and services."
The Patriots start their CPL campaign on August 5th in Florida, then, play their home games August 18th-23rd at Warner Park.
A Word About the Sponsors
Since their inception in 2010, English Tea Shops have sourced the best tea from the best farms in the world. Then, their team of experts combines them to create just the right balance of yummy flavours. Afterwards, the tea is hand packed, reducing the carbon footprint. The ingredients come from small farmers in limited quantities, grown without chemical fertilizers or pesticides. English Tea Shops is committed to recognize and to tell the world how these small farmers make a huge impact on sustaining the planet's natural eco system for many generations after us.
Mojitos Bar is located within the La Casa Del Habano lounge in Port Zante in St. Kitts. They have the largest cigar humidor in the Caribbean with a huge selection of Habanos (Cuban cigars). You can also find a nice selection of cigar accessories and clothing. The famous Mojito drink menu is a refreshing classic. Mojitos Bar has an extensive menu of traditional and exotic mojitos as well as traditional Cuban drinks and coffees.
-Ends-
For further information contact:
Richard Berridge
Email: rberridge@sknpatriots.com
Web: sknpatriots.com – Facebook: /sknpatriots – Twitter: /sknpatriots – Instagram:/sknpatriots