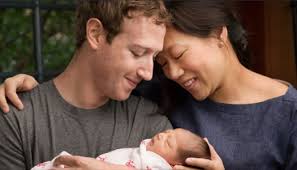 Talk about giving back!
In the wake of the birth of their healthy and beautiful baby girl named Max, Facebook CEO Mark Zuckerburg and his wife Priscilla Chan pledged to give 99% of their Facebook shares, which is valued at about $45 billion, to charity.
They broke the BIG news in a letter to their newborn daughter Max which was posted on Facebook on Tuesday. According to sources, Max was born "early the week of Thanksgiving".
"Our initial areas of focus will be personalized learning, curing disease, connecting people and building strong communities," Zuckerberg and Chan wrote to their daughter. "We know this is a small contribution compared to all the resources and talents of those already working on these issues. But we want to do what we can, working alongside many others."
However, the size of this mega couple's fortune is so large that even if he were to give all 99% of his shares away today, he and Chan would still be sitting on a whopping estimated $450 million in Facebook!