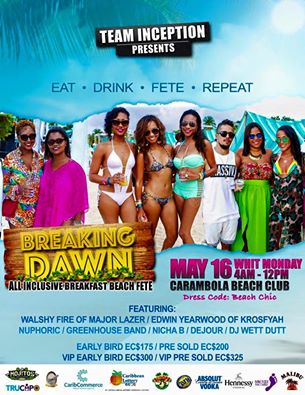 If its Sunday morning, and you're still in the gym trying to get swimsuit ready for Inception's first ever breakfast fete- Breaking Dawn, chances are, you just may not reach those #bodygoals before 4AM tomorrow morning.
But I have some good news! You don't necessarily have to have that perfect beach body with the firm buns, toned legs and washboard abs to look great. The perfect hot gyal (or hot bwoy) outfit can set you straight and make you feel.
Here's a few outfit ideas for Breaking Dawn that will having you looking and feeling like a BIG DEAL, VVVVVIP Style!
Simply stunning! Bold colors + Bold accessories!
Mix a swimsuit top with a long flowing skirt with high side splits. This allows you some leg coverage but still gives a little peep show!
Trying to serve swimsuit tease without feeling totally naked? Opt for a sheer cover-up for your bikini or monokini!
Get into something cute and chic! Cover up your swimwear with a matching crop top and shorts.
You can not lose with a cute sundress! Choose something vibrant that'll make you stand out!
And since we're on our favorite girl, badgalriri, let look at some of her beach outfits that we absolutely loved!
Gotta love this red lip!
For the DAREDEVILS!
Swap out your swimsuit top for a floppy hate instead! A little nipple never hurt nobaday!
Come through with a headwrap!
And who can forget this icegreen, red and gold crotchet bikini and cover up. True island tings!
Soooo, now that I have offered you guys such great assistance, get off the treadmill already, take a shower and get some rest. You won't be able to redeem your body now, but your outfit can still be on fleek.
The party kicks off at 4AM and you'll need the energy!
See you there!