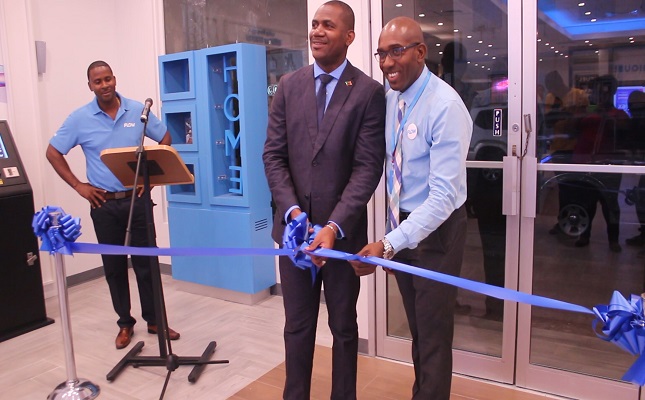 BASSETERRE, St. Kitts & Nevis (October 27, 2015) – Full-service telecoms provider FLOW has committed to delivering "a world-class customer experience retail environment" at its new state-of the-art customer experience centre in Basseterre St. Kitts.
With customer service at the forefront of its new brand, the telecoms company recently unveiled its new look customer retail super store. The new look was revealed to a group of specially invited stakeholders, and media representatives on Monday 26th October. FLOW St. Kitts & Nevis General Manager, Mr. David Lake, highlighted: "Our new store embodies the essence of the Caribbean; from the calming blue tones of our brand colour representing the sea, to our vibrant secondary color palette bringing a wave of life into the stores with a touch of natural wood tones, coupled with high quality furnishing."
Customers will be able to interact with the new products and services via the new customer experience centre, the first of its kind on the island. With interactive features, self-help facilities, and newly trained customer agents, the store is designed to transform the entire customer experience, and is a major step in the company's bold vision of being number one for customer service in the region.
The customer experience centre is partitioned into different flexible zones that allow for different transactions, such as traditional customer service and sales transactions as well as bespoke areas for technical help and advice. Each zone is customisable and flexible and fed from a central customer queue system, so depending on the traffic loads for each zone, FLOW reps can serve more customers at a time by altering the set-up of the zones at the push of a button. The state-of-the-art product displays aim to show each product live — from mobile devices running the latest apps, to mobile handsets paired with headsets and speakers so that customers can experience music offerings such as Deezer and much more.
Mr. Anthony Morton, Manager Consumer Sales at FLOW St. Kitts & Nevis said, "these zones, which include the 'customer service and sales zone', the 'Always stay connected zone', 'My mobile lifestyle
zone', 'My home, my entertainment zone', 'Help and Advice Zone' and a 'Charge up zone' are all unique areas of the experience as each zone brings a new and unique experience to each customer." The pièce de résistance of the FLOW experience is the "Charge Up zone", which is a secured cabinet where customers can charge their devices free of charge. According to Morton, "It's simple. Choose an open door, secure your device inside, and then lock the door of your very own locker taking the key with you. Return whenever you like to a fully charged device."
FLOW's Marketing & Corporate Communications Manager, Kevin Edwards expressed confidence in the investment of FLOW's newest and second in the region flagship customer experience centre. According to Edwards, "We are proud to have been able to construct this centre in record time. We are confident that by employing this world-class and revolutionary approach to our flagship location, more and more customers will visit our store to experience our world and do business with us".
The new Flow Customer Experience Center opened for business on Tuesday 27th Octobe