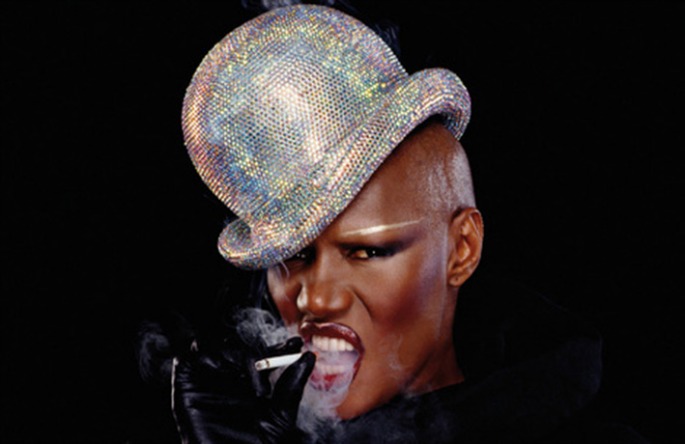 Grace Jones is well known for her outlandish and.. uhm…expressive persona. And one of the many persons she is not impressed with is Kim Kardashian!
In her autobiography, 'I'll Never Write My Memoirs', Madame Jones opens up about how she really felt when Kim allegedly "broke the internet" by showing us her boobs and behind (a sight that we have become quite familiar with). Jones was not a fan. And this can be attributed to the fact that Ms. Jones had broken "art galleries bavk in the late 70's with almost the same with the same photographer and her past lover Jean Paul Goude.
Grace actually seemed quie upset that her ex-lover and father to her son would compromise the integrit of his art work by recreating it with Kim.
Here's what she says in her book:
"When he took a photograph of Kim Kardashian with a champagne glass perched on her ass in an impossible pose like the ones he did with me over thirty-five years ago, I asked him why he was giving her – a basic commercial product – his ideas? This seemed to contradict his spirit of integrity, which he has protected for so long. Why was he repeating himself, just to give her a little flare of publicity, quickly absorbed by the next puff of self-promotion?" Well, he replied, 'I got the feeling that if I didn't do that photograph, she would have simply copied the idea anyway. I might as well copy myself.' His ideas are are so powerful that repeating them decades later still causes a hell of a fuss, however temporary…He might have done it to wind me up a little as well. Which he did."
Tuh!
So I guess its pretty safe to say that Grace Jones is not one of the 48million Kim Kardashian followers on instagram.