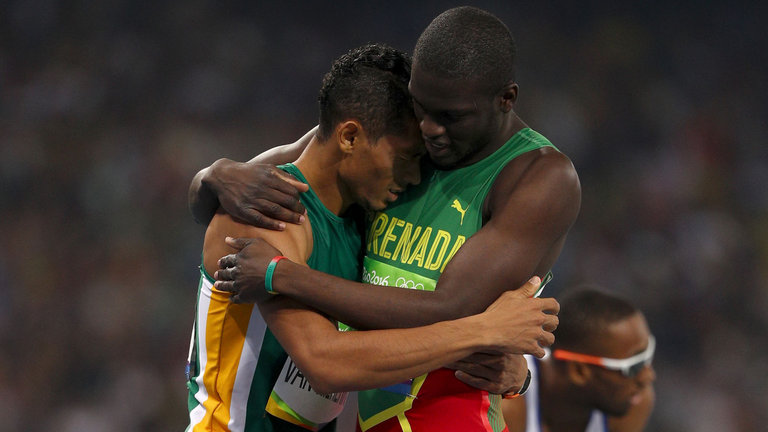 Impressively, Kirani James wasn't the only Grenadian, let alone Caribbean athlete who made it into the men's 400 meter final. However, it wasn't to be for James as a South African athlete by the name of Wayde van Niekerk had other ideas.
Kirani James looked set to join Michael Johnson in the history books as the only other athlete to win back-to-back Olympic gold in the men's 400 meters. The Grenadian was even joined by fellow countryman and teammate, Bralon Taplin, who was incredibly, the fourth fastest qualifier of anyone heading into the final. The dream stage had been set and it appeared that James was ready to grab it with both hands.
Leading up to the final, James' number 1 threat appeared to be LaShawn Merritt, an american athlete who won gold in this very same event at the 2008 Olympics in Beijing. By the end of the race, Kirani James had held off Merritt by 9 hundredths of a second. However, there was one major problem, they were racing for silver not gold. This is because in lane 8, on the outside of both Merritt and James, Wayde van Niekerk of South Africa decided to run the race of his life. Van Niekerk not only beat Merritt and James by a clear margin but also broke Michael Johnson's 400 meter world record set in August of 1999.
The world record breaking run was so awe inducing that after day 9 of the Olympic Games in Rio which saw Usain Bolt become a 3 consecutive time Olympic Champion in the 100 meter sprint, Michael Johnson said seeing his own world record broken was more amazing an experience than Bolt's efforts. This was high praise indeed.
To put in perspective, the immensity of Wayde van Niekerk's effort, he did not even win his qualifying semi-final, losing to Machel Cedenio of Trinidad & Tobago who ultimately came an honourable 4th in the final. Also prior to running the astonishing time of 43.03 seconds, his fastest time at the Olympics had been 44.45 seconds. Clearly Van Nieker was holding something back, and he surely delivered it all and more at the most appropriate of times.
We pride ourselves on supporting all our Caribbean athletes but it is important to recognize greatness when it is in your presence. With that being said congratulations to Wayde van Niekerk who's great-grandmother apparently trains him, which makes his story even more incredible. Finally, congratulations to Kirani James of Grenada for capturing yet another medal in the men's 400 meters, this time with a silver. Honorable notices should also go to Machel Cedenio of Trinidad & Tobago and Bralon Taplin of Grenada who both impressively made the final, with Cedenio finishing just outside the medal running in fourth.