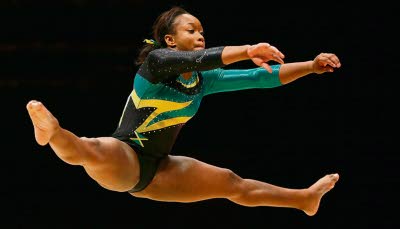 University of California, Berkeley sophomore Toni-Ann Williams will be the first female gymnast to represent Jamaica at the Olympic Games, after she qualified for the 2016 Games with a strong showing at the Rio Olympic Test Event on Sunday.
Williams, who has already made history be being the first gymnast to represent Jamaica at the senior international level, has now moved one step further, by qualifying to represent her parents' homeland at the 2016 Olympic Games scheduled for August.
The coach of the 20-year-old gymnast, Justin Howell, voiced his excitement by the prospects of Williams being the first Cal women's gymnastics student-athlete to qualify for the Olympics in the history of the programme.
"What an amazing accomplishment! It's a little surreal at the moment, but we believed without a doubt that she would qualify," Howell told Cal Athletics.
The gymnast, with both parents hailing from the Caribbean island of Jamaica, has been training concurrently for both international qualification and the NCAA gymnastics season.
We'll be surely keeping an eye out for this one!
#KICKOUT!!!