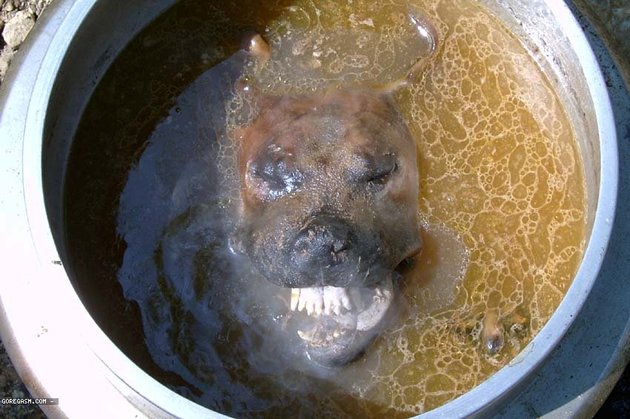 Oh the bittersweet taste of revenge.
Gross!
In an act of revenge, a Jamaican chef confessed to a group of youngsters that he had cooked dog meat in a pot of soup for them, which resulted in him being severely beaten over the weekend.
According to reports, the young men, who were regular customers, allegedly owed the chef money. It was in a heated argument over the unpaid debt when the chef voiced the meaty yet bizarre confession to the young men.
His confession was followed by a severe beating from the young men which resulted in the chef having to seek medical attention with a broken hand and leg, according to claims.
Despite the possibility of it being a false claim by the chef to get back at the youngers, the villagers expressed disgust at the situation.
"When we hear, a bag a wi go roun a him yard go look if wi could find nuh dead dog or dog parts but wi neva find nuttin still but wi believe same way cause him did a walk and a tell people seh him ago mess up all who did owe him money," Samuel Billings, a resident of the community, told THE WEEKEND STAR.
Another villager, who requested to go by the name Pow Pow said "By right still, probably di man did just frustrated cause dem always a bad up di man and a trust soup from him and den go round him or nuh worry pay him, a dat dem fi get. Me glad me never buy soup from him yet."
The presiding police and health department from the parish have since been made aware of the happenings and have promised to look into the matter.
"We have not yet received a formal report. Some arguments of that nature have reached us … . We heard he got quite a few injuries, too when he was beaten," Corporal Wesley McIntosh of the St Ann police said.