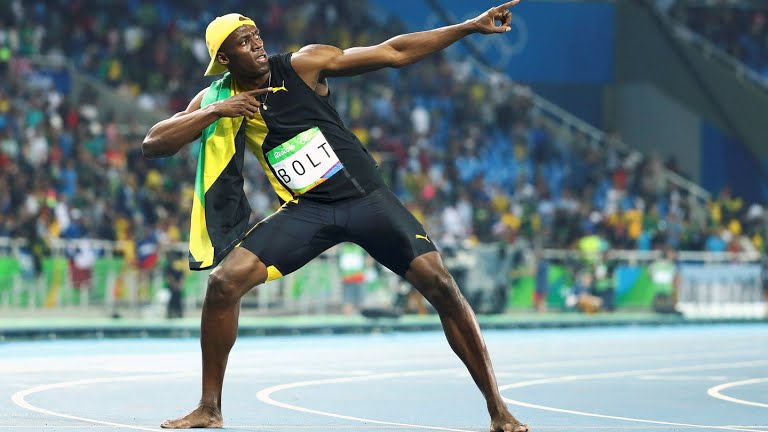 With the world watching, Usain Bolt has solidified his place in Olympic and 100 meter history as arguably the greatest sprinter of all time. 
The Jamaican superstar who hails from the small and unassuming village of Sherwood Content once again lit up the biggest stage at the Olympics, the 100 meter dash. Bolt ran 9.80 to win his record third consecutive gold medal in the 100 meters. The only other person to win back to back Gold medals was the great Carl Lewis but now Bolt has one back-to-back-to-back Gold medals in the 100 meter sprint which nobody has ever done in history.
Tonight's victory solidifies Bolt's place as one of the greatest Olympic champion's ever. This Gold medal also represents his 7th overall and is 1/3rd of Bolt's attempt to make it a hat trick of hat tricks of Gold medals in 3 consecutive Olympics. In the past eight years Bolt has almost singlehandedly given short distance track events a rebirth that it so desperately needed.
There are moments in life that people say you always remember where you were when they happened. Usain Bolt's career as an Olympic 100 meter sprinter has been almost a continuous one of those moments. Tonight Bolt reigns supreme as the fastest man in the world for the third consecutive time. With that, he not only exceeds historical records but he brings immense pride to his nation of Jamaica.
Although Justin Gatlin and Andre De Grasse ran great races to get silver and bronze medals respectively, anyone not named Usain Bolt was essentially an extra in a production belonging to and starring entirely Usain Bolt as the main man. He is a man who defies description, who supersedes superlatives and who tonight became a living legend.
Also, Usain Bolt is not done yet. He has two more chances to bring up his tally to 3 gold medals this time around and 9 overall. Be sure to see Bolt in action again in the men's 200 meter sprint on which begins on Tuesday, semi-finals on Wednesday and the final on Thursday 18th August. Additionally he will be featuring in the men's 4 x 100 meter relay which begins Thursday with the final on Friday 19th August.