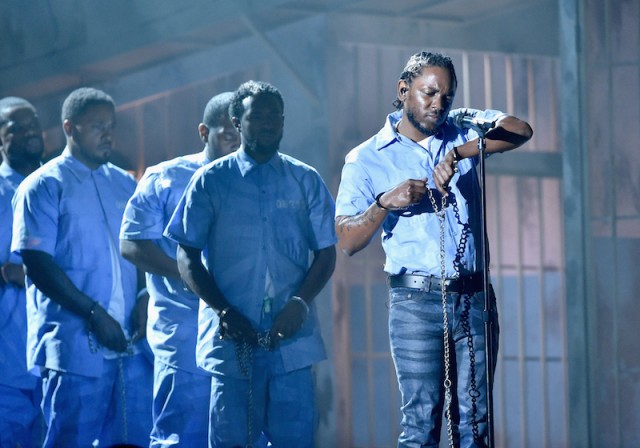 The night before last, the Staple's Centre showcased talent like no other and yes, that includes brotha Kendrick Lamar. Kendrick has been the talk of the night, and following day, for his raw, intense and powerful performance of 'Blacker the Berry', 'Alright' and an untitled freestyle.
However, this wasn't just any performance. Lately, celebrities, social media, and nearly all of society have been debating on topics revolving around racism, inequality and ill-treatment of African Americans in the United States, so it was only fitting for the unrestrained rapper to express his opinions on the matter- Kendrick Style!

His theatrical performance spoke the hearts of his fellow brothers and sisters in America (collectively) with his enraged and commanding yet passionate words of poetry, along with his impactful props of inmates in chains and prison cells, and a background of fire symbolising the power that's been burning inside every single black boy/girl and man/woman.
Was Kendrick's performance overtly political- yes! Did we love every bit of it- yes!
His performance also referenced Trayvon Martin (and 'Black Lives Matter' by extension) and displayed his love for his own, despite what others have thought throughout the years. It was simply Bold and Brilliant.
If people were offended by Beyonce's Halftime performance, let's hope they don't collapse once word of Kendrick's candid performance gets around.
Watch his performance here: