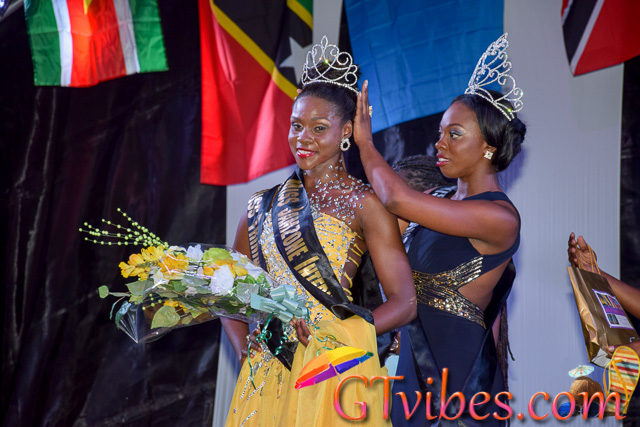 The Land of Steel pan and Calypso reigned supreme at this year's Miss Jamzone International which was held at Hits and Jams Water World, Providence in Guyana.
On Saturday, Miss Trinidad & Tobago- Afeya Jeffrey 7 other talented beauties to walk away with the title of Miss Jamzone International 2015, and a whopping cash prize of $10,000.00 USD.
The top three positions went to Miss Jamzone International- Miss Trinidad and Tobago (Afeya JEffrey), 1st Runner Up- Miss St. Kitts (Jackiema Flemming), 2nd Runner up- Miss USA (Jaleesa Peterkin).
In Miss Jamzone International, all contestants take part in the following segments: Best Country Presentation, Best National Costume, Best Fantasy Segment Costume and Best Evening Gown. The points that a delegate acquires from all these segments are added together, and a top three is selected.
Then, the points acquired are disregarded and the top three move on to the highly anticipated and feared Interview segment with a clean slate. It is from that segment alone, that the winner is selected from the top three.
The segment results went as follows:
Best Country Presentation- Miss St.Kitts
Best National Costume- Miss Suriname
Best Fantasy Swimsuit- Miss St. Kitts
Best Evening Gown- Miss St. Kitts
Best Smile- Miss Guyana