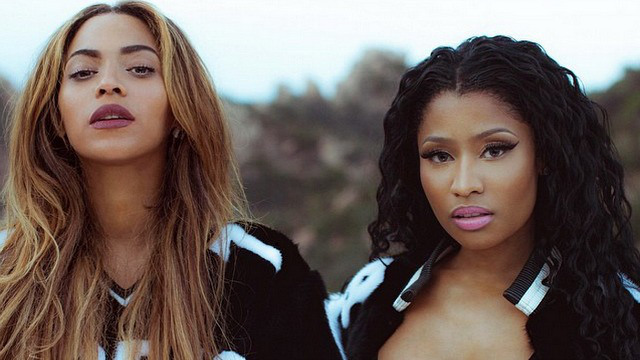 We are definitely feeling the visuals for Beyonce and Nicki Minaj's latest collab "Feeling Myself". We first heard the track on Nicki's most recent 'The Pinkprint' album and fell instantly in love. Now that we have been blessed with this surprise video for this bad ass song, we just can't get enough of it!
The video was exclusively released yesterday on Jay Z's streaming service 'Tidal' but has then since leaked.
For this surprise video, the BFFs prance their flawlessness all over Coachella, showing scenes of them pigging out on burgers and fries, sitting pretty in kiddie swimming pools with toy water guns and frolicking in the dessert. Coachella has now officially made it on our Bucket List!
Here's a preview.
This isn't the first time the duo has put it down like that. Onika was featured on Beyonce's 'Flawless' remix and was actually a part of her 'On the Run' tour.
We love Queen Nicki and have been hailing King Bey since the beginning, but when you put them together is definitely a TKO.
I think we girls here in the office have found our Summer Jam!