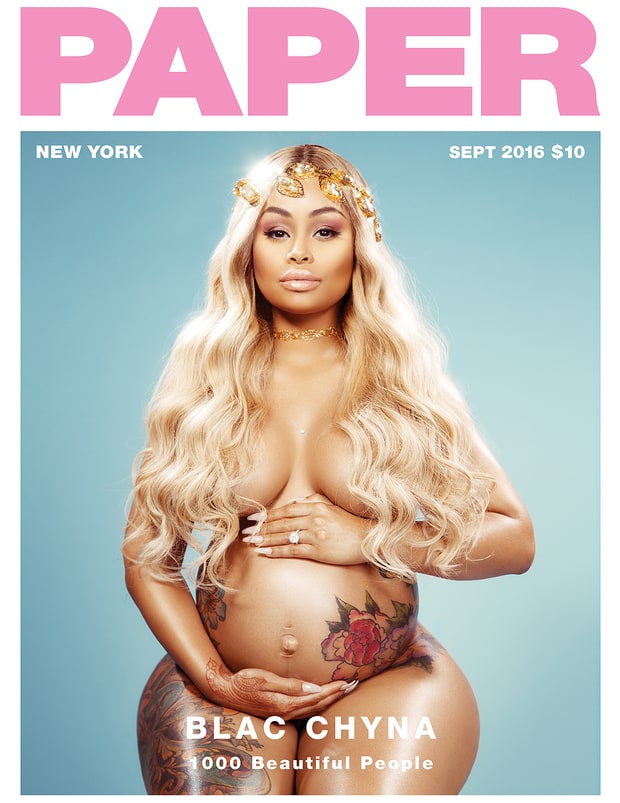 'Paper' magazine that is.
And is it me, or is someone following in the steps of her sister-in-law Kim Kardashian?? ???
Glowing with pregnancy radiance, Blac Chyna cradled her growing belly as she posed nude for 'Paper' magazine's September 2016 issue.
The 28-year-old future bride of Rob Kardasian, looked STUNNING as she bared it all, with wavy blonde hair, and just a sparkly crown and choker, PLUS a blinding 7 carat diamond engagement ring!
In the magazine, Chyna posed in a few different looks to flaunt her sexy curves and we were here for all of them! #PregnancyGoals!
The expecting mother didn't do a full interview with Paper magazine, however she did mention how excited she was about her and Rob's upcoming reality show.
"I'm excited about fans getting to know me as a person and not as a thing or a face," Chyna said. "I hope when people think about Blac Chyna, they think of a mogul and entrepreneur, a mother and a badass bitch."
Chyna and Rob are expecting a beautiful baby girl in October.