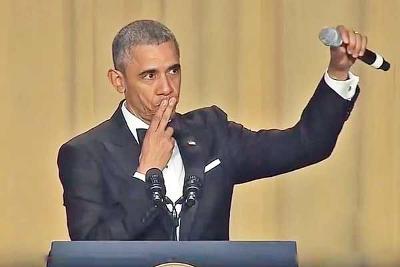 You've Just Gotta Love This Man!
Ugh!
So last week at the White House, President Obama hosted his last Correspondents' Dinner. Of course, a bittersweet moment having successfully completed 2 terms of presidency, but now living out his last months in the white house. Can't we make an exception and give the man one more term!? 🙁
But if you know Obama, he was not going to say good bye without making us all teary eyed (from laughter of course). During his speech he poked fun on EVERYONE! From First Lady Michelle, to Hilary Clinton, were all victims of Obama's brilliant punchlines. And what would a big-wig gathering be without the mention of Donald Trump?
Here's some highlights of his speech, with a surprise G.O.A.T ending!
#ObamaOut!