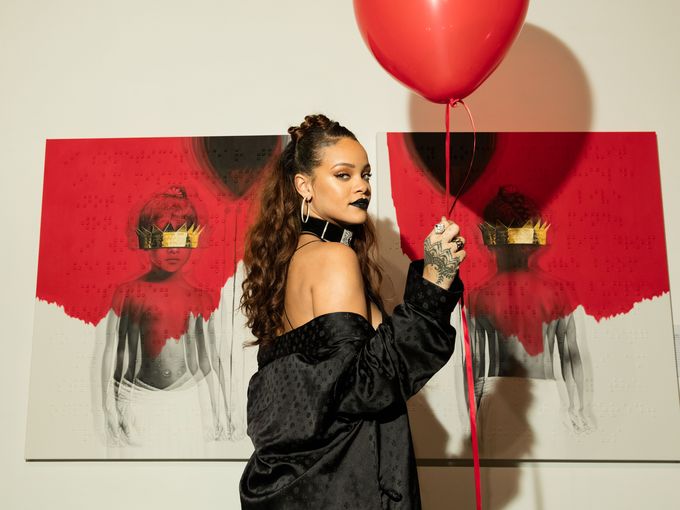 Last night, at a private invitation only gathering at the MAMA gallery in downtown Los Angeles, Rihanna released the album art and title of her much delayed 8th album.. ANTI.
Yes guys! Its not called #R8 as we thought!
This singer stated that this was her favorite album cover to date and that she was impressed by the artist's work.
The cover depicts Rihanna as a child, with a golden crown over her eyes and a black ballon strung from her hand. Laid over the image is a poem by Chloe Mitchell written in Braille.
According to the star,  "The whole idea behind the Braille is that people who have sight are sometimes the people who are blindest."
The "visionary' art work, as described by Rihanna, is the masterpeice of Roy Nachum, who is well known for the work he did on Kanye West's 2010 album My Dark Twisted Fantasy.
On exhibit in the gallery was the title ANTI defined: "A person opposed to a particular policy, activity or idea." Sounds like Rihanna right?
We are still to have a release date for this OVERLY anticipated album, and Rihanna is keeping pretty tight-lipped about it!
But as far as the already released songs go (Four Five Seconds, American Dream and our personal favorite #BBHMM), this album seems like its going to be EPIC!