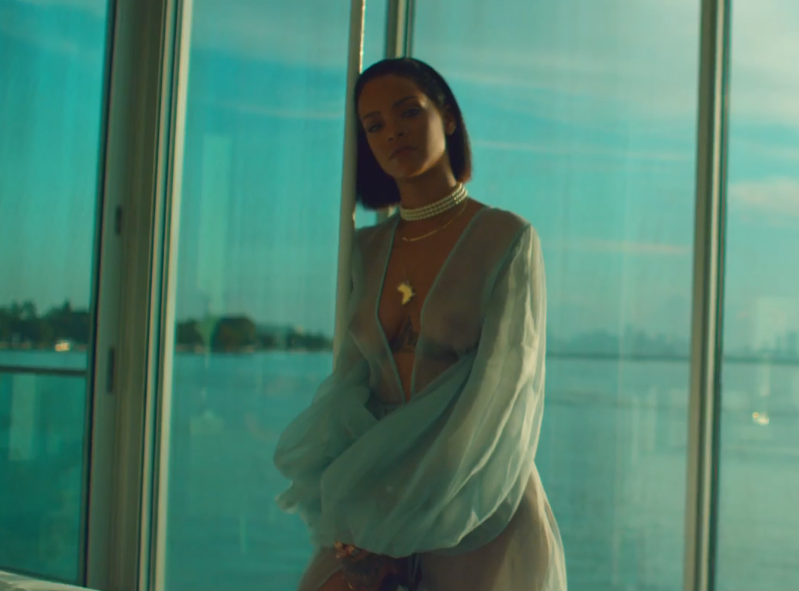 And the stoners rejoice!
HAPPY 4/20 EVERYONE!!!
And to celebrate such a momentous day, at noon today Rihanna released the visual to her bad ass single "Needed Me".
It's the third single from her latest album ANTI and comes after her 9 week chart topper "Work" which features Drake, and the super sensual "Kiss It Better".
In the video, Badgalriri continues to prove that she is theee BADDEST BITCH. Baring her now quite famous nipples in a see through blue chiffon piece, Rihanna wanders through a luxurious seaside mansion, gun in hand.
The video ends with her walking through a strip club which looks like it has "Pour It Up" playing in the background-raining cash and ass, and climaxes with her calmly busting three caps in the head of a man getting a lap dance in a back room.
The beautifully shot video was directed by Harmony Korine, the mind behind Spring Breakers. And I must say, I actually quite enjoy this visual. Though half naked (as usual), Rihanna looks elegant in the chiffon get up with that pearl choker and Africa pendant. If I were a millionaire mob-wife going to kill my husband, I'd probably wear that too. That green romper, soft makeup and combed back bob looked great. And the scenery was real and beautiful. The seaside home was stunning and who doesn't like strip clubs where it rains hunnits?? In comparison to her last video "Kiss It Better", which was a complete let down for me being my favorite song on the album, this one.. I'll probably watch 27 more times today.
Tell Rihanna thanks for the early Christmas gift kids!
#RihannaNavyforlyfe
#CaribMusic!