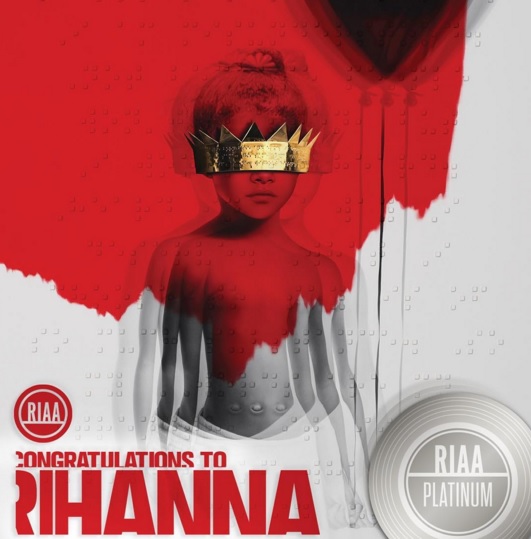 "Tah-Dah!"
Within only a few hours after it's suprise release on Wednesday, Rihanna's long-due album 'ANTI' has been certified platinum by the RIAA. Yes! You read right! The album recieved over 1 million dowloads in 15 hours (1.4 million to be exact)! Within that same time 'ANTI' was streamed 13 million times!
'ANTI' being the highly anticipated follow-up the 'Unapologetic' was promised by Rihanna to be completely different to her other bodies of work. She highlighted that it would be her most creative and diverse album yet. And with that (and the 1 million free downloads through Tidal as a part of her $25 million dollar deal with Samsung) RihNavy ate it up like hot bread and butter!
ANTI boasts of great features like Drake and SZA and also had a stellar production team, with the renowned DJ Khaled calling the record a "major key"
The Bajan beauty, thrilled by the success of her new album, took to social media to thank fans for their support.
THANK U NAVY!!! #ANTI IS PLATINUM!! https://t.co/mS5za0Mi05

— Rihanna (@rihanna) January 29, 2016
ANTI is now also available on iTunes, in its deluxe edition with three new tracks. However, we're still a bit confused as to how many copies will be counted for the Billboard 200 chart. Let's not forget that 1MILLION of the downloads were FREE as part of her contract with Samsung (this deal was pure genius by the way!)
But none-the-less, the wait is finally over! The Navy has ANTI and for the most part, seems to be thrilled with the work work work work work work Rihanna put in!