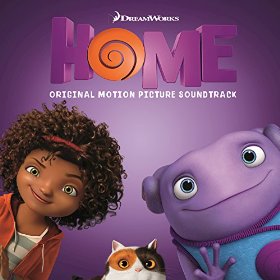 You know here at Carib Buzz we are HUGE fans of the 'bad gal' Rihanna.  In March, the Bajan beauty starred in her first animated film 'Home' by Dreamworks. So we just had to take a look.
Here's the gist of the film: After planet earth is taken over by an alien race called the Boov, they relocate all of man-kind to one location. However, by a stroke of luck, Gratuity 'Tip' (who is voiced by Rihanna) was able to escape and manages to hide from the aliens. In a desperate attempt to find her abducted mother (Jennifer Lopez), Tip happens to cross paths with the fugitive Boov named 'Oh'(Jim Parson). In spite of their differences, together they set out on a journey with two different destinations in mind. Unbeknown to them, a great evil is impeding and it will take much more than to save the planet.
Overall, we'd have to say the film was just …OKAY. In a time when animated films push the limits on Everything- animation, story telling, the actual plot, character development etc, in our minds "Home' falls a bit short.
We do love Rihanna, however it took quite some time for us to get comfortable with her voice as the voice of an innocent fun-loving tween. Further, we would have liked to know more about Tip. We felt like there were hints of a deeper story of teenage insecurity and rejection but these were never developed. However, we thought that giving the character, who goes by the name 'Gratuity Tucci', the nickname 'Tip' was quite cute. We also loved her Caribbean accent and that they referenced here island origins.
'Oh' is a very fun and lively character and it was quite interesting to see his and other Boov interaction with the human world. Their use of language and earthly objects were both intriguing and hilarious.
In the end when Tip finally reconnects with her mother, we do get a bit teary-eyed, as we here at Carib buzz are a bit emotional. But it is indeed a sweet moment.
We'd have to say we did enjoy this film but it is not something we are raving about.
We'll give 'Home' a 6.5.
Here's the trailer: