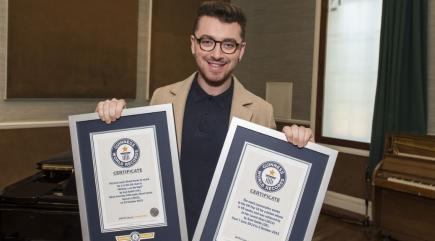 English singer and songwriter Sam Smith now has two new Guinness World Records to add to his wall of accomplishments.
The "Only One" singer's debut album, 'The Lonely Hour', stayed in the UK Top 10 Album Charts for 69 consecutive weeks! This out runs the previous record holder, Emeli Sande, who's 'Our Version of Events' stayed there for 63 weeks.
Additionally, Smith's theme song 'Writings On The Wall' for the new James Bond movie, 'Spectre' has become the first song in the franchise's 50 year history to make it to number 1 in the UK's Single's Charts.
The talented Smith expressed his sheer excitement after being recognised for his accomplishments.
"This is so amazing! It's such an honour to be recognized by Guinness World Records," he stated.
Way to go Sam!!!