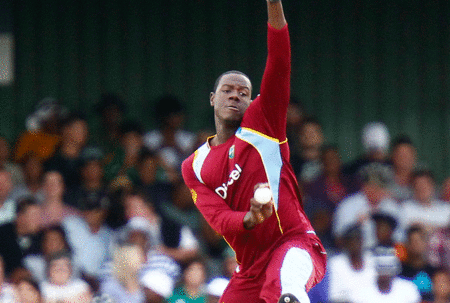 Since Darren Sammy has been sacked as the West Indies T20, Carlos 'Ricky' Brathwaite has been named the new captain, and lest we say, has some BIG shoes to fill.
Brathwaite, a green-horn at leadership himself, was welcomed with best wishes by his predecessor Darren Sammy, where Sammy stated:  "That's okay, I've always believed West Indies cricket is not about Darren Sammy. They are looking to the future and I wanna wish the new captain –I don't know if it's out yet so I won't call any names – all the best as he looks to lead West Indies cricket and take it forward." Sammy led the West Indies to victory in the ICC World T20 Championships in Kolkata, India last April.
Brathwaite was the hero of the final, stroking four sixes in the final over to ensure victory. However, we sure hope that isn't the sole reason for his promotion as captain!
Sammy led the West Indies to the World T20 title but criticised the WICB at the post match conference.  It goes without saying, whether what he said was true or not…. You just can't talk bad about your boss and expect to have a job the next day.
We congratulate our boy Ricky on his new designation as captain of course, but it is with a grain of salt.  It's only a matter of time before he gets fed up and as we say here in the West Indies "cuss out" the WICB too!  Hopefully, if and when he does, it is with tack and is much substantiated.
Best of lucky Ricky!  We look forward to see you taking the reigns as captain and bringing another victory back to the West Indies.