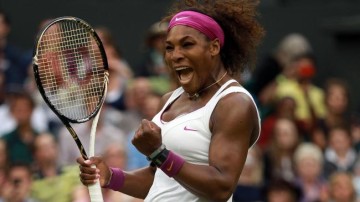 Serena Williams continues to prove that she's the GOAT (Greatest Of All Time) at Wimbledon.
On Saturday at the All England Club she etched her name in history once more. Through a heated match Serena was able to defeat promising Spaniard Garbine Muguruza 6-4 6-4 in southwest London to complete what she calls "Serena Slam" -winning four straight majors, for the second time!
This will be Miss Williams' sixth Wimbledon championship, 21st Grand Slam singles trophy overall and fourth consecutive major title Saturday.
She was not short on displaying her absolute delight by her victory- even balancing the winner's silver dish atop her head!
At 33, she is the oldest woman to win a Grand Slam tournament in the Open era of professional tennis.
Her prized collection includes a half-dozen trophies each from Wimbledon, the U.S. Open and Australian Open, and three from the French Open.