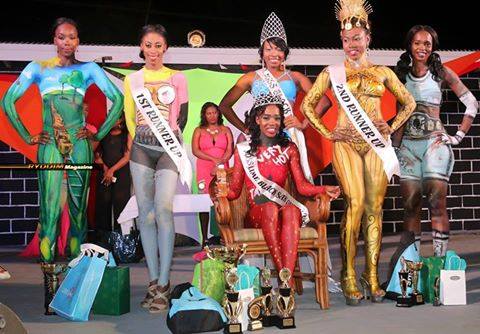 Its only March but it felt like a heatwave in the middle of Summer at the Sandy Point's hard court last night. Five curvaceous young ladies vied for the coveted title of being the new LIME Black San Bang-A-Lang Swimsuit Queen in a sizzling battle of beauty, poise and brains.
The night started with the Vintage Swimwear segment in which contestants were to strut their stuff in swimsuits that paid homage to the style of the past.
My personal favorite, the Creative swimwear segment, was definitely something to behold. Most of the contestants pushed the envelope and took the audience on an oceanic joy ride with impressively imaginative designs.
The Identical Swimsuit segment offered the judges and the crowd to better assess the young ladies' physique as well as poise and carriage.
In the body paint segment, contestants were instructed to depict a Black San event on the canvas of their bodies.
The grand finale and most anticipated segment, the Interview, allowed the ladies to showcase the brain behind the beauty.
At the end of the night, with an astonishing 906 points, the oh-so-tempting Felicia Silcott emerged victorious! Winning four of five judged segments as well as the Chairman's award, Miss Silcott captured the crown as well as the cheers of the lively audience.
Deshona Perinchief secured the first runner-up positions with 799 points, while second runner up Shamieka Prentice, with 775 points won the Best Body Paint segment. Marsha Phillip won the Most Popular Award.
One of the new responsibilities of the Black San Swimsuit Queen is to be involved in a community improvement project making Felicia Silcott the first queen mandated to undertake some community work.