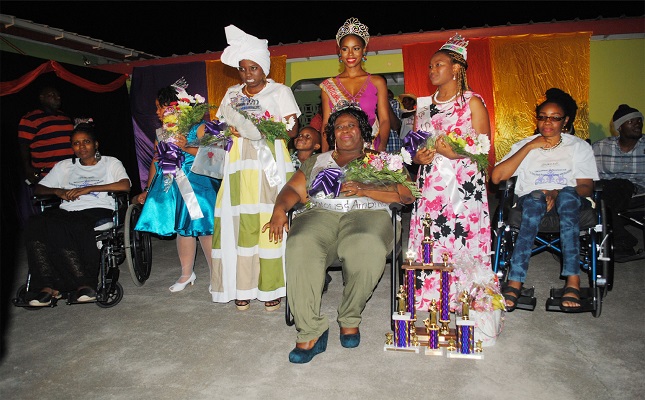 Miss Sharon Dasent has been crowned the first Miss Prestigious and Ambitious!
The show, which took place on Saturday, was organized by the Women's Network of the St. Kitts and Nevis Association of Persons with Disabilities (SKNAPD).
With a total of 349.5 points granted by the judges and cheers from her supporters, Dasent- who is visually impaired, surpassed her fellow competitor Ms Monique Pemberton, who scored 343.5 points for first runner up position.
Both Dasent and Pemberton are People Employment Programme (PEP) participants. Miss Dasent participates in the Computer Graphic Design, Microsoft Office, and Craft-making group at the McKnight Community Centre.
The chairperson of the SKNAPD's Women's Network, Ms Petra Pringle, said she was impressed by their performance and promised a second show next year."They were amazing," said Ms Pringle. "I really enjoyed and I was shocked to see how they came out and performed. It was excellent, I had a great time. It was worth the while to do it, to alert people that we are not just to stay at home, we are people, we have feelings, we are to be loved, and live a normal life. Nothing is wrong with us."
The show which was held at the St. Peter's Community Centre had three judged segments: Promotional Speech, Performing Talent, and Fashion of Yesteryear. The Miss Photogenic segment was judged by members of the public on Facebook.
A large and orderly crowd had gathered on the outside lawns of the St. Peter's Community Centre, and some people who could not afford to pay the token entrance fee watched the show from behind the perimeter fence.
These fearless and inspirational contestants, namely: Erica Rouse, Cheniqua Pemberton, Letitia Murray and her royal highness Sharon Dasent, were all cheered on by a very lively and supportive crowd which included the likes of the area parliamentary representative, the Hon Eugene Hamilton, who is also the Federal Minister of Agriculture, Health, national Health Insurance, Human Settlement, Community Development, Gender Affairs, Social services, Cooperatives and Lands.
The newly crowned Miss Prestigious and Ambitious Ms Sharon Dasent said that she had entered the pageant to have fun. She highlighted that her winning talent was directed to people who ignore persons with disabilities, and she had a very special word for them: "I have news for you, I might have a disability but I am going to show you that I have ability."
Ms Dasent, who lost her sight as an adult, indicated how difficult and traumatic this occurrence was for her. She mentioned being initially depressed but then deciding to turn to God in gratitude for life and all of her blessings.
She also spoke towards how her involvement in the PEP group at McKnight has helped to boost her confidence: "PEP has given me an opportunity to overcome my inability, to show people that I have ability," stated Ms Dasent. "I am now through with my course, but I am still with the PEP group because I am teaching two blind students, one in our group and the other from the Cotton-Thomas Comprehensive School how to use computers.
Such an inspiration!