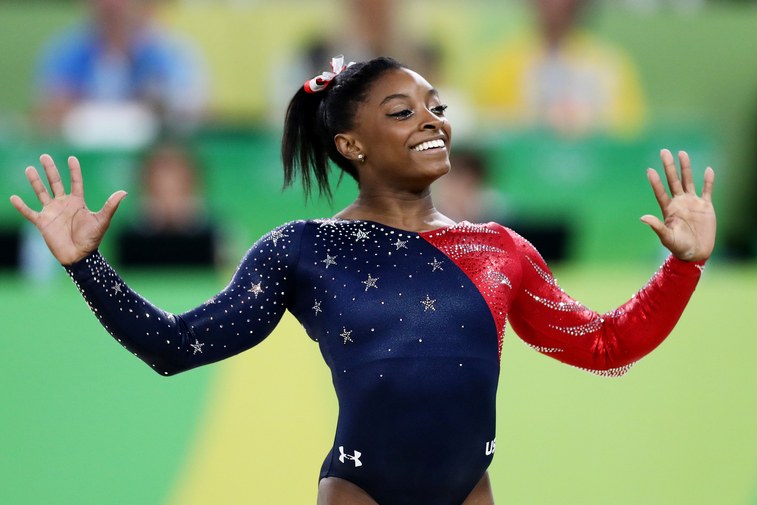 From now on, I think I'll be just a little bit more careful with using the hashtag #BlackGirlMagic. After seeing American Gymnast (and melanin goddess) Simone Biles put in #WORK at the Olympic games, I think I now should probably use the term much more sparingly. Some of us are just not worthy!
Standing at just 4 feet 9 inches, Simone Biles might be the smallest American Olympian in Rio, but of recent, due to her consistent stellar performances, she may just be the BIGGEST DEAL at Rio 2016 Olympic Games.
Showing out at the P&G Women's Gymnastics Championships Games in June, Biles made it clear that she was the one to watch, delivering a jaw-dropping floor routine that has now been viewed over 24 MILLION times:
WOW!
So now to Rio… No shocker here! On Tuesday, Biles and her team of superwomen: Aly Raisman, Laurie Hernandez, Madison Kocian and of course Gabby Douglas, who call themselves "The Final Five" captured GOLD and have even been called the most dominant gymnastics team of all time.
Before the Rio games, Simone was the first female gymnast to win four consecutive all-around titles at the U.S. national championships since 1974 to win , the first woman ever to be the all-around world champion three years in a row. And lets not forget that she had won fourteen total world championships medals—the most ever won by an American woman.
And now, lets throw another gold medal on that ass!
Now that's some Magic for yah!
#GIRLSRULE?
#BLACKGIRLMAGIC✨
#SimoneBiles?