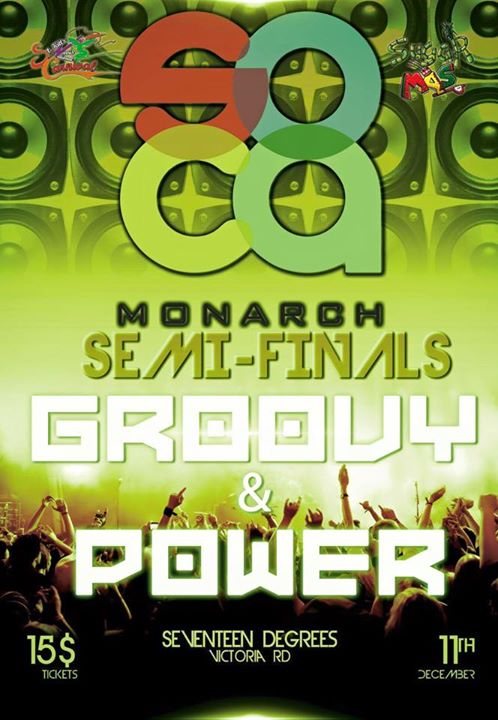 Last evening at the 17 degrees grounds, the energetic soca semifinalists took centre stage in rivalry for a spot in the Finals of the Sugar Mas Soca Monarch Competition.
Participating in the competition were 15 Groovy acts and 13 Power acts.
Notably absent from the evenings competition were the reigning Groovy and Power Kings Sugarbowl and Mr. Bagnall, who chose not to take part in the semi-finals.
Despite having a slowly-trickling-in audience, by the of the evening, the grounds was filled with electric crowd.
The competition was delightfully entertaining as all of the artist brought out there A game to prove that they were worthy for a shot at the title!
At the end of the show, which was just after 1:00 a.m., Carnival Committee Chairman Mills highlighted that the results would not be released at that time but would done so on later in the morning via social media. So here are you Sugar Mas Soca Monarch Finalists:
THE CABLE GROOVY SOCA MONARCH FINALISTS:
Nicha B (Nicha Byron): CAN'T WAIT – 308
Piece-A-Man (Wayne Phillip): BLOOD IN ME ALCOHOL – 298
Shakki Starfire (Jacinth Smithen): TRADITION – 288
Delly Ranks (Delroy Huggins): SHUB – 284
Fantastic Tunda (Kemoy Pollock): SWEET HAND MAN – 274
Shanna (Shannakay Raymond): LISTEN TO MA BODY – 272
K-Jah (Kemarri Armstrong): LINK UP – 271
KT (Jason Jacobs – Kyte): CARNIVAL BAD GIRL – 268
Vincie (Irvinsia Warner): CARNIVAL BAD GYAL – 266
ZIZ POWER SOCA MONARCH FINALISTS:
L.A.X / KT (Jarez Liburd): JACK HAMMER – 191
Mr Hype (B'jorn Bassue): BITE – 188
Shanna (Shannakay Ramond): WHINE UP YA BUMPA – 187
Ijahnya (Odessa Pemberton): MASS DESTRUCTION – 175
Delly Ranks (Delroy Huggins): JAMMING – 170
Mr. World (Royston Wigley): BANG ABOUT – 167
Tannabal (Keon Prentice): CARNIVAL REVELERS – 153
Piece-A-Man (Wayne Phillip): CHARGE – 149
Ras Kelly (Kelvin Kelly): AEROBICS TIME – 149
Fantastic Tunda (Kemoy Pollock): SLAVE BOAT – 146
The Cable Groovy and ZIZ Power Soca Monarch Finals will be held on the 23rd of December at the Sugar Mill at Port Zante.