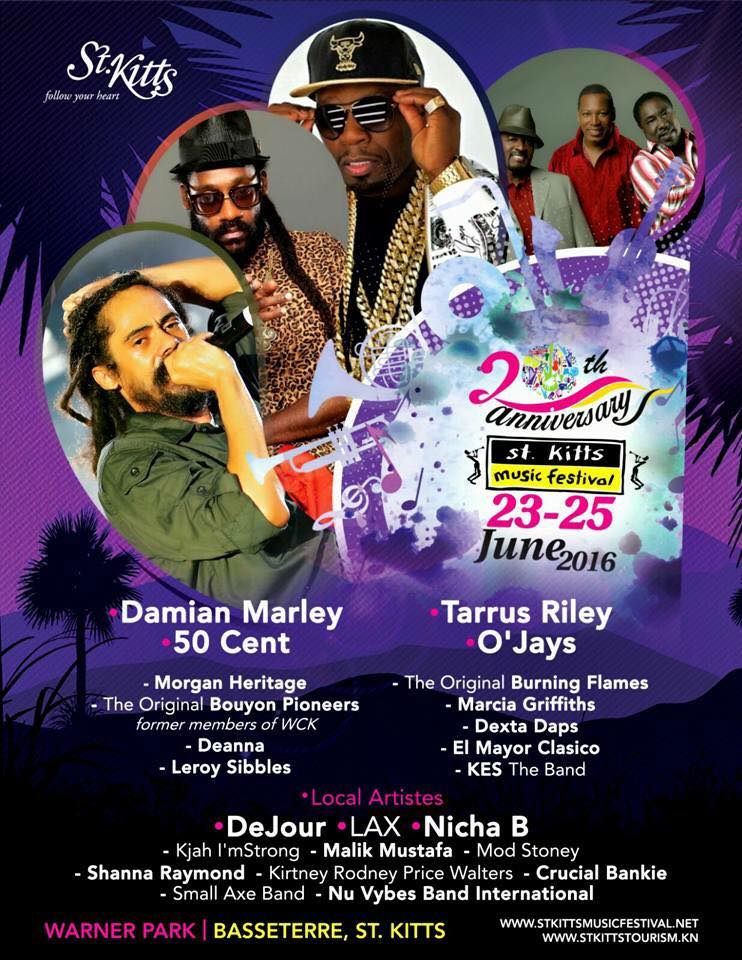 With months and months of unusual silence and lack of excitment, the St.Kitts Music Festival finally gives us an idea of who will be featured on the highly anticipated annual Music Festival.
Today at a Press Conference held at Palm Court, the committee released its first promotional flyer, as well as signed the local artists to be featured on the three-day event. For the headlining local acts we have the likes of the sensational Dejour, the dynamic LAX and the reigning soca monarh Nicha B. Other local acts include island favorties like Kjah I'mStrong, Shanna Raymond, Mod Stoney, Malik Mustafa, Kirtney Rodney Price Waltersm, Crucial Bankie, Small Axe Band and the Nu Vybes Band international. 
On the international side, from what we've seen so far, the acts include some faces that we've seen before and loved at the festival, like Damion Marley, Tarrus Riley and Morgan Heritage. When it comes to new faces, we get to meet the rapper who took us to the 'Candy Shop', 50 Cent and 'Used to be my girl' trio O'Jays. Other international acts include The Original Bouyon Pioneers, Deanna, Leroy Sibbles, The Original Burning Flames, Marcia Griffiths, Dexta Daps, El Mayor Clasico and KES the Band. 
I'll be honest here (and this is just MY opinion), I am feeling just a tad dissapointed at the lineup options this year. I mean, the lineup has just been released and it may just be that I need some time to mull it over, but there is Nothing that jumps out at me and makes me feel super pumped about the festival that I'm normally pretty stoked for.
Yes! There are some acts that I'd love to see (again). The last time Tarrus was here, which I think was just 2 years ago, he was absolulely phenominal, and who can forget Jr. Gong Marley? But then, that may just be the issue. The repeat act may be coming around again just a little too quick. It sorta feels like I'm watching reruns of my favorite Netflix series- Its good but I've seen it all before. Morgan Heritage (who I'm pretty sure most all own Kittitian passports by now) have been frequent flyers to the island ,Dexta Daps was on island just last year headlining for an event and KES.. KES was just just here like 3 weeks ago.
I'm not too much of a rap fan (unless is champagnepapi <3), but I can see some persons getting excited for 50cent, and the seniors would surely be delighted by O'Jays. But again, these are just not acts that jump out at me and make me #skinout internally and NEED to come out to the festival. For crying out loud, this is the festival's TWENTIETH YEAR!!! Shouldn't the lineup be #Iconic????
Sighhh…
But, according to word on the street, there are more negotiations taking place, so we may just see more acts being added to the lineup. Maybe trying the utilize the element of suprise? Uhhhh.. So I'll keep my fingers crossed and I'll probably slide into R. Kelly's DMs and see if he'd be interested in visiting on exotic island for a few days.
A girl can dream right?