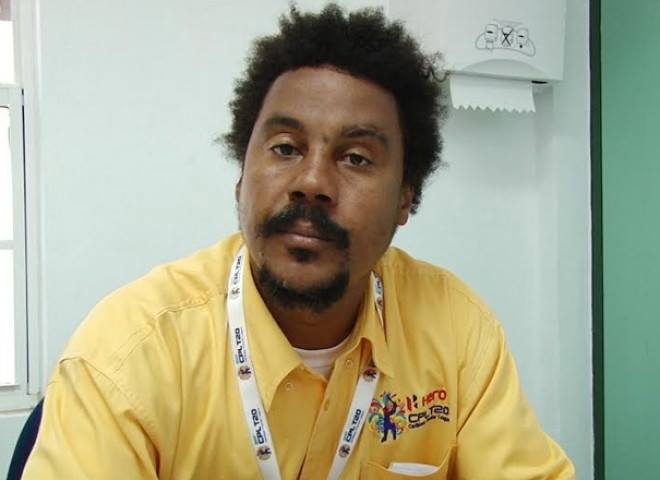 NOAH G MILLS IS NEW NATIONAL CARNIVAL CHAIRPERSON
===================================================
Noah G. Mills is the new National Carnival Chairperson as announced by Deputy Prime Minister and Minister responsible for Culture, Honourable Shawn Richards.
Deputy Prime Minister Richards revealed that Mr. Mills comes amply qualified for his new appointment having much experience in the Carnival arena both as coordinator and performer. It was revealed that he served for many years as president of Easter-Rama, the predecessor to the now thriving Black Sand Festival in Sandy Point. He has sponsored, chaperoned and coached several pageant contestants at various levels across St. Kitts and Nevis. The new Carnival Chair has also served as a radio commentator for Carnival and Culturama, as a judge for calypso and queen pageants and has written many calypsos and speeches for several contestants.
"More so, he brags that he sang calypso at the Junior Calypso level here in St. Kitts amongst the likes of Ayatollah, Keebo, and Big Lice," Minister Richards stated. "And to this extent, the records show that he was once the National Carnival Junior Calypso King in the 1980s."
It was further noted that in recent times, Mr. Mills served as the Coordinator for Volunteers at the 2015 CPL Games in St. Kitts and received halos and kudos from the management team and volunteers alike. Additionally, he was the pioneer who introduced the VIP Experience in Nevis for Culturama 40, and again worked closely with the Nevis Island Administration and the Culturama Committee to host the VIP for Culturama '41.
The new Chairman's academic achievements do nothing but add to his portfolio of experience.
"He is now working on his Ph. D. in Business Administration, this gives him the acumen to treat our national carnival product as a business, from a fiscal, marketing, management and consumer satisfaction standpoint," Minister Richards stressed, revealing that Mr. Mills is also the owner and managing director for SEN Consulting, a locally-registered company that provides business consulting, marketing, employee developmental training, and event management services both locally and regionally.
Minister Richards noted that he expected a smooth transition from the former National Carnival Chairperson to the new one, explaining that he has already met with both parties.
"Both have assured me that they will work closely to ensure that the Carnival product continues to be of a high standard," Minister Richards revealed. "Further, Mr. Mills has presented some new and exciting ideas in terms of improving the overall Carnival experience, which I am convinced all stakeholders would welcome and enjoy."
Under the Chairmanship of Mr. Mills, a successful staging of National Carnival 2015-2016 is expected and Minister Richards noted that this would add to his growing list of achievements.
"The Government has inherited a richly-packed calendar of sporting, cultural, educational, social and other activities for St. Kitts and Nevis," he stressed. "For example, since receiving our mandate in February of this year, we have successfully hosted CARIFTA Games, CPL, St. Kitts Music Festival and Nevis Culturama Festival."
This article was posted in its entirety as received by carib.buzz. This media house does not correct any spelling or grammatical error within press releases and commentaries. The views expressed therein are not necessarily those of carib.buzz, its sponsors or advertisers.