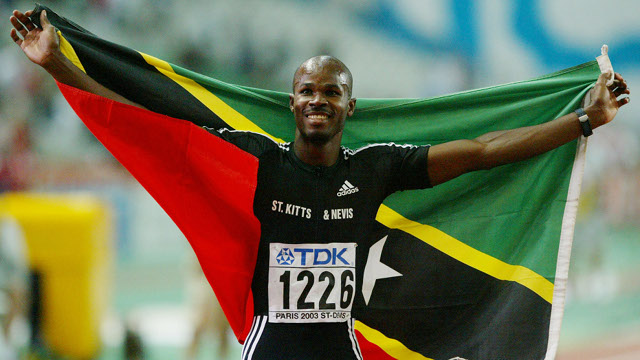 The Silver Jubilee Stadium , St Kitts, that will host of the 2015 CARIFTA Games, is to be renamed in honour of Kim Collins, the 2003 World Championships 100m winner.
The announcement was made by Sean Richards, Deputy Prime Minister of St Kitts & Nevis and Minister of Sports at the Opening Ceremony of the 44th CARIFTA Games on Friday.
In an address made on the 5th of April, on the sprinter's 39th birthday, Prime Minister Dr. The Honourable Timothy Harris said that Collins' over 20-year career in Track and Field is a reflection of the values held dear in St. Kitts and Nevis.
"We are celebrating a young man whose life represents the true values of St Kitts and Nevis. The values of hard work, sacrifice, persistence, preparation, humility, and consistency have been the catalyst as well as the driving force behind this young man's success," said Harris.
The Prime Minister also noted that a career of over 20 years in the grueling world of athlethics is phenomenal, and Collins' achievement and contribution is one that should be celebrated.