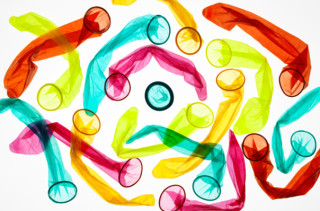 PURE GENIUS!
The collective brainstorm of a  group of teenagers who attend the Isaac Newton Academy in east London have birthed what they call the "S. T. EYE". This revolutionary condom changes color when it comes into contact with an STI.
The Einstiens behind this project were Muaz Nawazm Daanyall Ali and Chirag Shah, who are all under 15 years of age.
The team stated that they were influenced to create this idea because the significant negative impact the United Kingdom was facing by the hand of Sexually Transmitted Infections.  the idea to create S.T.EYE when they found out what a big problem STIs were in the United Kingdom. "We knew that STIs were a huge problem in the U.K.," said Daanyaal to The Washington Post. "We saw a gap in the market and we wanted to help people feel safer."
In theory, the condom can detect an infection both in the wearer and his partner. Once in contact with an STI, the antibodies on the condom would interact with the antigens of STDs, causing the condom to change colors depending on the disease.
According to the World Health Organization more than 1 million people acquire a sexually transmitted infection every day.
This idea won these young men an award in the future of health category at the TeenTech Awards. The students won about $1,500 and a trip to meet Prince Andrew at Buckingham Palace later this year.