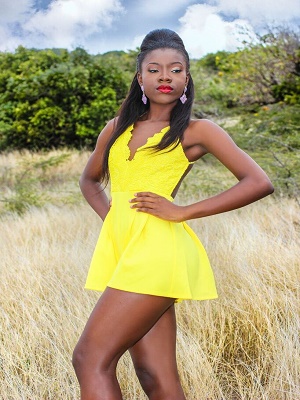 ---
Local beauty and holder of 2nd Runner up title at Miss Black San' Swimwear pageant 2016, Vashina Bolus, will represent St. Kitts-Nevis in the first ever Miss Regal International Pageant to be held in Antigua.
The 22 year old Kittitian native will compete amongst a host of beauties from across the entire globe, with confirmed participants from countries such as Thailand, South Africa, Trinidad and Tobago and even Russia.
The Miss Regal International pageant, which is the brainchild of fashion designer, model agent and pageant manager, the iconic Calvin Southwell, will be held over a period 27 days, culminating on 13th August with the main pageant. During the 4 weeks, the delegates will compete in various events including National Costume and Talent competition, Designer Fashion Show, and the Preliminary/Pitch Show.
National Pageant Director for Miss Regal International, Miss Treasa Wyatt and Assistant Director, Jackiema Flemming both shared sentiments of enthusiasm and hopefulness for success of the delegate from St. Kitts-Nevis in the pageant.
Miss Regal International St Kitts-Nevis Vashina Bolus will leave the federation for Antigua on July 18, 2016. We do wish her the best of luck!