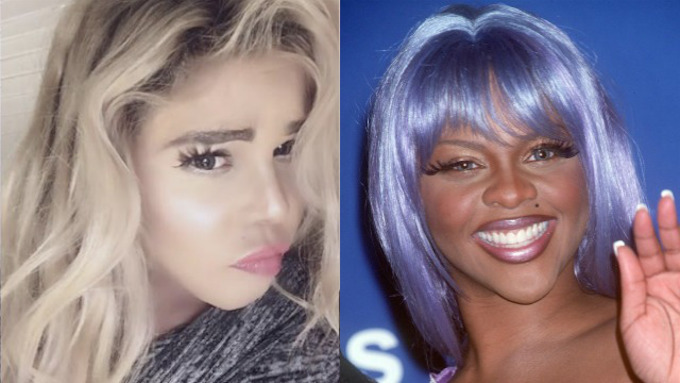 If someone randomly came up to you and showed you this pic that's been circling like wildfire, and claimed it was the infamous Lil Kim, would you believe it?
"Who is Lil Kim"??? Common'. Don't act like you forgot. We all know Lil Kim.
Other than being the mentee and a love interest of the late yet iconic Biggie Smalls, Kimberly Denise Jones a.k.a Lil Kim was known as an actress, model and highly successful female rapper in the late 90's and 2000's. She was notorious for her explicit lyrics, edgy content and risqué apparel… Oh… Now you remember, huh?
Not only is the 'Magic Stick' singer famous for her career and stage presence, she is also known for her countless surgeries. Throughout the years, we've grown accustomed to Kim switching up her look every now and then.
However, I think I speak for many when I say that she might have taken things a little too far with her latest makeover… She looks like a completely different person!
Don't get me wrong. The appearance of the "new" Lil Kim is decent, however, there's not even a trace of the old Kim we all grew to appreciate. Where's the self-love? Here's what she had to say in a 2000 interview with Newsweek:
"I have low self-esteem and I always have. Guys always cheated on me with women who were European-looking.. You know, the long-hair type. Really beautiful women that left me thinking, 'How can I compete with that?' Being a regular Black girl wasn't good enough." She validated the statement by saying, "White women get [implants] everyday. It was to make me look the way I wanted to look. It's my body."
I guess that explains what happened here. It's pretty heart wrenching that she didn't even know how beautiful her brown skin was before surgery… Sigh. Well, there's no turning back now. Let's all just hope she's happy with her new transformation, cause that's all that matters, right?