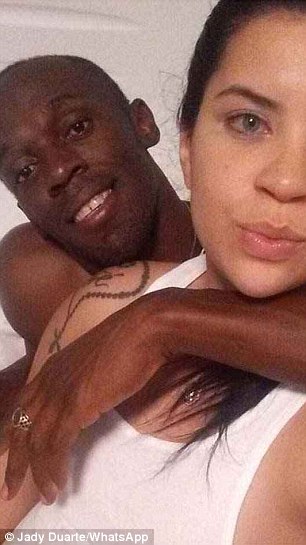 'ME A OVA DWEET' must have been Usain Bolt's motivational song for his last days in Rio. And I must say, with all the photos and videos of Bolt obviously doing THE MOST, I could have seen this coming!
The whatsapp-photo-snapping Brazilian who we first met in photos cuddling up in bed with Bolt, has decided that 15 minutes of fame is just NOT enough for her. The 20 year old student/drug lord's widow has now spilled the beans about her exciting night with the World's Fastest Man, and has given the Daily Mail a JUICY play by play of how their "very passionate and hot" night really went down.
Yes siree! The 20 year old Jady Duarte let it all out! You may just want to take a seat cause this tea is Hot!
"He stood in front of us and suddenly he pulled up his shirt and showed us his six pack," recalls Duarte indicating that she met Bolt at a Rio nightclub. "I had never seen anything like it. I just had to reach out and stroke it. It felt incredible. The muscles were as hard as stone. But I was paying so much attention to his abs that at first I didn't even notice it was Usain Bolt."
(PAUSE! You really didn't notice that this was THEE Usain Bolt? Not buying it!)
"The bodyguard said Bolt wants you to come over. I didn't go at first because I was playing hard to get. Most girls would go over there like a shot but I wanted to make him work," Duarte continued. "When I was waiting in line to pay at the end of the night he sent the bodyguard over again. He said 'Why are you not following him? This is Usain Bolt.'"
(? ?)
She continued: "Finally we were waiting in line for a taxi and he smiled at me and did the famous victory pose so I was in no doubt who he was. That was when I decided it was time to give in to him. He pulled me into the taxi and gave me an incredible kiss."
(???)
The steamy taxi kiss then set the tone for the early morning rampings. From there Duarte says Bolt snuck her in to the Olympic village, and even though there was a language barrier, she knew exactly what he wanted…
( Doesn't sound like her first time at the rodeo tome?)
"We used Google but I didn't need a translator to tell me that he wanted sex," she said. 'He played the Rihanna's song, 'Work.' I think he likes to listen to it when he makes love. It was very passionate and hot — we were devouring one another. He has the body of a champion although his male parts do not match — he is just like a regular guy. I was expecting him to be fast but it was actually the slowest sex I've ever had. We did it for about 40 minutes then he took a couple of minutes rest before we did it again."
(Sidenote: Usain REALLY seems to like this 'Work' song from Rihanna. Have you noticed???)
After that long distance race, Duarte says the two took selfies and hung out in bed listening to music until around 9am, when Bolt handed her a 100 Euro bill so that she could get a taxi. And though he promised to date her again during the Paralympic which starts September 7th, she hasn't heard from him since.
YIKES!

I'm pretty sure Bolt's "first lady" Kasi Bennett won't be too fond of this sizzling tale.
Oddly enough though, Bolt had made very little attempt to hide his rampant post triple-triple womanizing. Maybe the couple have some sort of open-relationship agreement perhaps? She's the first lady, but he's allowed to have a second, third, fourth and fifth??
As we say in St.Kitts-Nevis, "Gyal wuk you shift!"