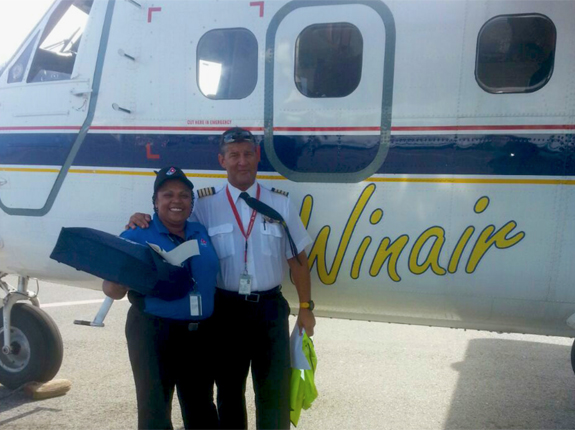 This is the absolute most amazing food delivery service in the Caribbean!
Regional airline WINAIR has linked up with pizza god Domino's to offer the Caribbean's first airplane food delivery. This delivery feature services to residents of Saba and St. Eustatius.
Starting this month, this revolutionary service allows residents of these two small islands  to call and order up at Domino's airport location in St. Maarten using their credit card to prepay.
The pizzas are baked right before a scheduled WINAIR flight and flown to the nearby islands in insulated heating bags.  Within a half hour – your steaming hot delicious pizza can be picked up at the WINAIR airport counter. Tah-Dah!
"Partnering with a company with a stature like Domino's is not only desirable for WINAIR but, moreover, an additional service we can offer the residents of the surrounding Islands," said president and chief executive officer of WINAIR Michael Cleaver.
Owner of Domino's local franchise, John Caputo, highlighted "Domino's Mission Statement is to be the number one pizza delivery company in the world…and in every neighborhood," he continued by adding,"With this partnership, we are taking mission this to new heights. Delivery by airplane! We are excited to partner with Winair to be able to provide this service that Saba and Statia residents have been longing for."