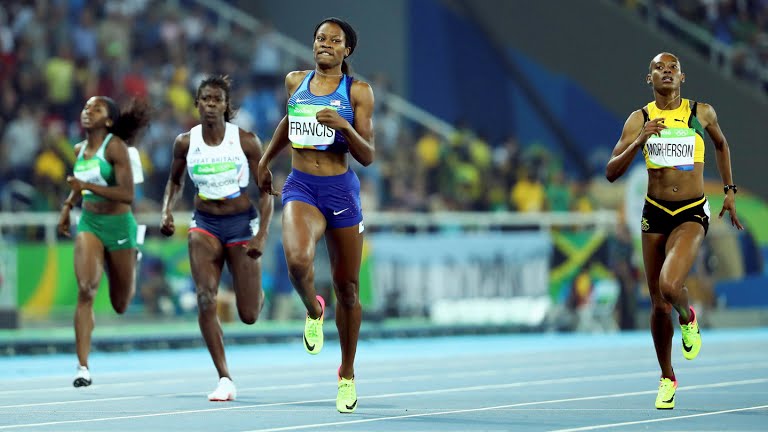 In what is set to be one of the most closely contested track events of this Olympics so far, tonight we will see the women's 400 meter final featuring 3 United States and 3 Caribbean representatives.
The women's 400 meter final is set to be an almost entirely Caribbean vs United states affair. With all due respect to the Ukranian and Italian athletes Olha Zemlyak and Libania Grenot respectively, in their semi finals they qualified as fastest losers. With that being said, this sets the stage for a Caribbean vs United States final. Just like last night where Usain Bolt dispatched of Justin Gatlin, the Caribbean represented in the form of 2 Jamaican athletes, Shericka Jackson and Stephanie Ann McPherson, and 1 Bahamian Shaunae Miller will look to see off the challenge of three very talented United States athletes.
To convey the true quality of the field, the two Jamaican athletes are one half of the quartet of women who won the 4 x 400 meter relay Gold at the World Championships last year. Shaunae Miller of Bahamas also captured the silver medal in the women's 400 meter individual event last year at the World Championships.
Allyson Felix is the defending World Champion at 400 meters but has never won Olympic gold in the individual event before. However, her United States team are the back-to-back defending Olympic champions in the 4 x 400 meter relay so she knows what it feels like to have success at this distance. Natasha Hastings is a relatively newbie to the individual event having won gold in the 4 x 400 meter relay in Beijing eight years ago. Finally, Phyllis Francis is 24 years old and is a newcomer to the Olympic scene but boasts a lot of potential as she qualified with the second best time of the United States Olympic trials at the women's 400 meter sprint, second only to Allyson Felix.
The Caribbean athletes have a real chance to push for medals in this 400 meter event. Youth is certainly on their side as McPherson is the oldest at 27 whilst the other two athletes are just 22. Allyson Felix, who is their main competition, has had a torrid time with injuries in recent years and is likely competing in her last Olympic Games at the age of 30, so this race is set nicely to be a classic. We saw an incredible race last night in the men's version of this event where a World Record was shattered and a star was born in the form of Wayde van Niekerk. Perhaps tonight is the night when one of these Caribbean stars, puts their name in Olympic highlights for years to come. We certainly hope so!