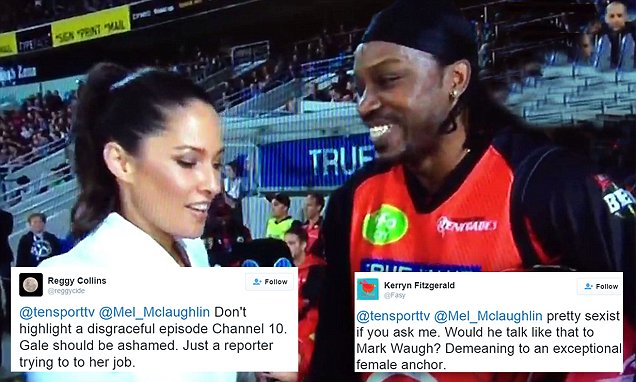 To the Caribbean, Christopher Henry "Chris" Gayle is known as a star Jamaican cricketer. Considered an allrounder and one of the biggest hitting legends in limited overs cricket, to Australia, Gayle might be recognised for something other than just his cricket skills.
This past Monday at the Big Bash League match in Australia, Australian reporter Mel McLaughlin proceeded with a side-line interview with the West Indian cricketer. Instead of staying on topic, he decided to comment her looks, propositioned her for a post-match drink, and after an awkward pause, told her "don't blush baby"- all on live television, NOT COOL.
Even though Gayle publicly apologised, the incident created widespread outrage and sparked a debate over sexism. The Renegades' chief executive Stuart Coventry reacted by fining Gayle $10,000 Australian dollars ($7,300 US dollars) because it bordered on harassment, was unrelated to cricket and inappropriate in the workplace.
Though McLaughlin deemed Gayle's actions as disappointing and is glad everyone is taking this issue seriously, she accepted the apology and said she wants to put the episode behind her.

Did Chris Gayle get what he deserved or should these things be pushed on the back burner?